Is your best friend finally tying the knot with the love of his life? Well, marriage is an auspicious occasion when personified words may not exhibit your emotions, but some cheerful gifts for your best friend will. When words are lacking, gifts talk about our emotions well, so, as your best friend will not be a bachelor anytime soon, the best man has a certain set of responsibilities to fulfil.
You must have prepared a toast for the reception, and your presence might be an ultimate gift for the groom, but the culture says you would have to decide on gifts for best friend or have to get a group gift for the groom. Writing a toast pouring out your sentiments is relatively easier than selecting the right fantastic gift for the groom. You might know your best friend's choices, but now as he is going to be someone's husband, you would need to give a celebratory gift that conveys 'Congratulations' and 'I love you man' to your newlywed buddy.
So, let's browse through some amazing gifts that you can present to your best friend as the best man.
Vintage Wine Box
How can you forget the vintage wine wooden box that celebrates their wedding that exquisitely? With three different compartments, you can add three different wines that celebrate special and important days of their life. It is a kind gift to give to your best friend if he is a wine lover or maybe his bride. So, you can take a vintage wine box into consideration.
Monogrammed Cufflinks
Your friend would definitely play dress up at his wedding. His elegant suit needs cufflinks that stand out. So, a pair of cufflinks monogrammed his initials or his bride's initials would be a loving gift to present. Handcrafted, rich quality leather or diamond-studded cufflinks tailored just for him would elevate his suit, and he would love it anyway.
Champagne with Personalised Glasses
A wedding without champagne is like a groom without celebrating their bachelor's party. As their wedding day is near, get them a personalised champagne glass set that has either the wedding date saved or the couple's name printed with a bottle of stunning champagne that would win his heart. Get him an exclusive champagne bottle this wedding day.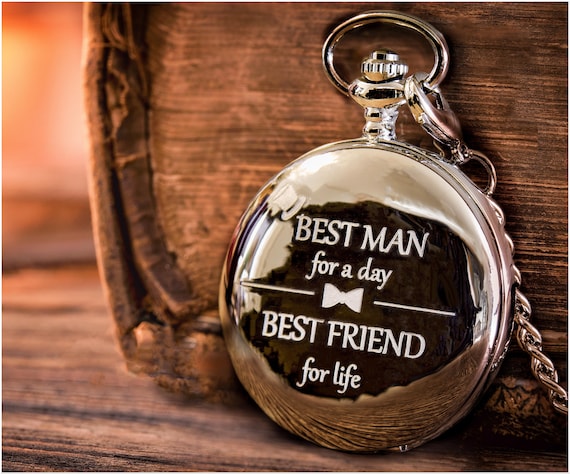 Airbnb Gift Card
After marriage, they would be going to some different city or country where they would need to book a hotel room for themselves. A gift card from Airbnb would be like a lending hand in planning their honeymoon. It depends on which gift card you would like to give them according to the budget and where they are supposed to travel; if they can book an apartment or mini-moon, it would be a massive help to the newlyweds.
Decorative Succulent Plant Set
As they make their way to their new life, they would need certain things to decorate their home with. Instead of going for some artificial decorative item, give them a bundle of positivity and freshness around. Succulent plants are an excellent addition to the home. You can add whichever you like or think will adorn their home and gift it to them. This present will surely amaze them after all, a best friend being thoughtful is like a dream for many.
Couple AirPods
Couple AirPods are one of the most incredible gifts to offer to your best friend. He is now getting married, and you can give him AirPods with engraved feels or a 'couple name' or wedding date that would give a special touch to it. It is like a 'couple gift' to give to your friend on his wedding day. So, what's your notion on it: a little expensive but a practical and loveable gift to offer.
Customised Whiskey Glasses
Save the day of the wedding day in the form of customised whiskey glasses for our groom. If your groom loves to have 'on the rocks', then these personalised whiskey glasses would be a perfect gift to give. You can look for some unique glass features while pondering personalised whiskey glass. This would make it a peculiar gift to give. And look for the branded glasses; they look amazing!
We hope this writing piece helps you choose a fantastic gift for your best friend turned groom.